Valentine's Day is not too far away! There are so many adorable ideas out in blog land, which have inspired some of my own ideas that I want to share with you:) Today's idea is all about the packaging. I'm a sucker for cute packaging! Wanna see what I have for you?
I've been in the sewing mood this past week…can you tell? :P
So here I give you my "quilt" pieces treat packages! Instead of using fabric, I used card stock and scrapbook paper. I first crisscross stitched the front piece. Next I sewed the two pieces together leaving the top open to fill with candy and then sewed it shut.
I cut out the hearts with my Silhouette. Before I cut them out, I designed my phrase in the fonts and size I wanted in proportion to the heart. Then on regular printer paper I printed out "Sew in Love". Next I transferred the phrase onto the heart by creating an imprint. To do that, you just place the paper with the phrase directly over the heart and with a pencil trace the letters. Since it was printer paper, it was easy to see the heart through it and center properly. I used that imprint to sew in the phrase. I hand sewed it with embroidery thread.  I did try printing the phrase directly onto the heart, but I didn't want any ink peaking out.
To attach the heart to the envelope, I punched a hole through each and tied them to each other with lace and fabric scraps.
And there you have it, "Sew in Love" Valentine's! I hope you like them!
I do have another Valentine's Day idea for you… this time treats! I'll be sharing them along with a tutorial at The Artsy Girl Connection's Crafty Lil Hearts blog hop. I'm so excited!! The event runs February 1st to February 14th. My post will be up next Sunday, February 5th. I hope you join me there!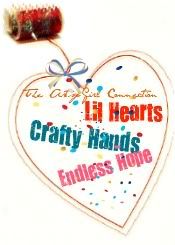 As always, you can find me and my ideas at these linky parties!